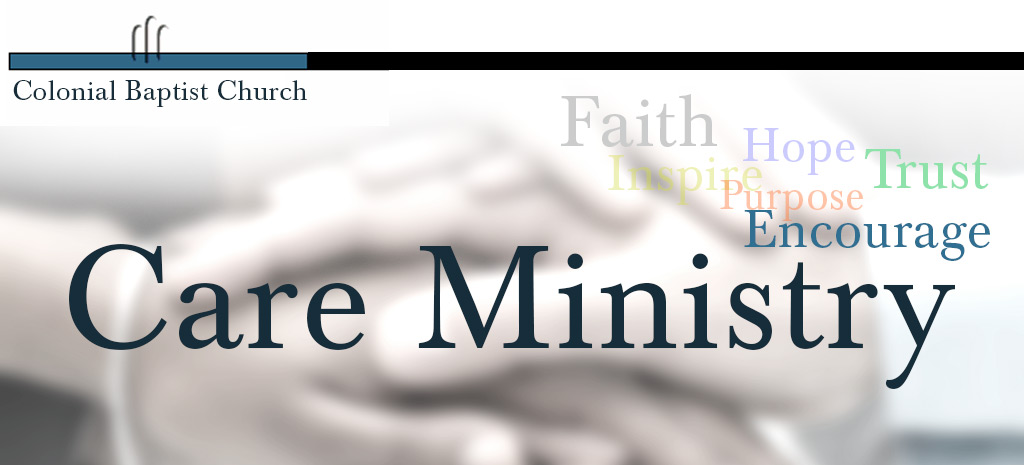 Care Ministry at Colonial Baptist Church is strengthening its commitment to provide comfort and care to the church family. Our goal is that the comfort you experience within Colonial will be multiplied through you to others inside and outside the church.
---
Welcome
The passion, mandate and vision of Care Ministries is to demonstrate the loving care of our Savior by ministering to those in need of comfort, care and support. An important aspect of Care Ministries is equipping and encouraging our entire church body to be involved in providing prayer, love and practical acts of caring for one another. If you are in need of help or would like to serve, please contact us.

Marriage Mentoring is designed for couples who are preparing for marriage, couples who are married and want to maximize their marriage or couples who are going through a difficult season and desire to strengthen, restore and repair their marriage. More on Marriage Mentoring.
Counseling and Referrals
The Pastoral Care staff provides marriage and individual counseling by appointment. We would be more than happy to help you assess what the next step in the counseling process is for you, whether it is locating a counselor in the area or helping you identify areas in which you need counsel.
More on Counseling
Service Opportunities
If you are looking for a place to serve in the Care Ministry, we can connect you with ministries that will provide you with rewarding hands-on experiences.
More on Service Opportunities
Prayer & Support
We are a church devoted to prayer, knowing that prayer is effective. There are many opportunities to join with others in the various prayer groups that we offer.
More on Prayer Groups
Groups and Events
JobSeekers
JobSeekers meets Monday mornings in the Student Center. Upcoming dates: JobSeekers will meet on Monday July 6, but will not meet on the following Monday July 13 because of Vacation Bible School.
Visit jobseekers.colonial.org
Cancer Support Group
The Cancer Support group meets on the second Wednesday of each month in WC108, 7:00-9:00 pm. Contact Phyllis Travers, 919-233-0355.
Zoë's Tea House–
Zoë's Tea House is a haven of Gods love, comfort and encouragement. Ladies, you are invited to a cozy tea where the encouragement and joy of fellowship will be celebrated over "a cup of tea." Please feel free to invite a friend. Contact: Email Zoë Jarman or call 919-852-1480. No childcare available.
Upcoming tea dates:
| | |
| --- | --- |
| Fellowship Tea | September 19, 2015 |
| Autumn Tea | October 24, 2015 |
| Christmas Tea | December 5, 2015 |
| Valentine Tea | February 6,2016 |
| Spring Tea | March 19, 2016 |
| Summer Days Tea | May 14, 2016 |
Association of Certified Biblical Counselors Counseling and Discipleship Training.
If you desire to grow in your knowledge of God's Word and learn how to effectively apply it to life issues, you are encouraged to register for the ACBC Counseling and Discipleship Training this fall. Dates are
September 18-19
;
October 30-31
; and
November 20-21
.
Email Melissa
for the Colonial 15% discount code.
Click here to register for the conference.
Announcing the Colonial Community Bulletin Board! Colonial members and attendees may post and find things that are for sale, for rent, or free. To view available items click here. To post an item and review the posting guidelines click here or on the Community Bulletin Board logo.
Care Network
Shelter in the midst of life's storms describes Care groups at Colonial. We want you to have a place where you can be ministered to through God's Word and through "life-on-life" interaction with others in the midst of your life storms. More on Care Groups.
Care Groups have finished for Spring 2015 but will resume in the Fall. Stay tuned for 2015 fall dates for DivorceCare, DC4Kids and GriefShare. More on Care Groups.
If you have an interest in becoming a facilitator in DivorceCare, DivorceCare4Kids, or GriefShare, we need your help as we look ahead to September. We would provide training and you would be teamed up with an experienced facilitator. Please contact Sandra in Care Ministries at sferrell@colonial.org.
New Care Ministries
Linking Arms
Linking Arms is designed to connect women (moms, sisters, wives, daughters) of military personnel for encouragement and prayer support while their loved one is actively serving in our nation's Armed Forces. Contact us for specific meeting times and locations. Click here to email or call 919-233-9100 for more information.
Moms In Prayer
If you are a Mom and have children in school, you are invited to pray for your child and their school. We don't meet during vacation times on the Wake County public schools traditional calendar and are presently stopping for summer vacation. Contact Anne Steckman for details.
Caregivers Support Group
Caregivers Support Group is for those providing care to a loved one. This group is focused on sharing experiences, challenges and resources in a confidential and supportive environment. Meets the third Sunday of each month at 4:00-5:30 in FC202A. Contact Nancy Boyd.
Pastors and Staff
Tom Zempel
Pastor, Care Ministries
Tom Zempel joined the Colonial pastoral staff in January of 2011. He has served as the Vice President of Academic Affairs at Central Baptist Seminary in Plymouth, MN since June of 2007. Prior to that he served as the Vice President of Administration, taught in the counseling department and was head of the counseling center since 1994. Tom received his Bachelor of Arts at Pillsbury Baptist Bible College and earned a Master of Divinity from Central Baptist Theological Seminary of Minneapolis. He received a Doctor of Ministry from Westminster Theological Seminary in the area of Biblical Counseling. He is a member and Fellow of the National Association of Nouthetic Counselors. In addition to his pastoral functions at Colonial, Tom is head of the counseling emphasis of the M.A. in Church Ministries and adjunct professor at Shepherds Seminary. Tom and his wife, Jane, have three children: Jonathan (wife Renee), Benjamin, Amy (husband Neil), and six grandchildren.
Stephen Pritchett
Pastor, Care Ministries
Stephen received his Master of Divinity degree in Biblical Counseling from New Orleans Baptist Theological Seminary. Prior to coming to Colonial, Stephen served over 10 years as a counseling pastor with vast experience in the ministry of caring and giving spiritual direction. He is a member of the American Association of Christian Counselors and is certified as a Prepare/Enrich Marriage Counselor.
Administrative Assistant
Administrative Assistant
919-233-9100 ext 1105